The Fourth Seminar of the Centre for Competition Law Studies of CASS Institute of International Law in 2018 was successfully held at the conference room of the institute on the afternoon of December 15, 2018. The seminar was presided over by Professor Wang Xiaoye, a research fellow at CASS Law Institute, and attended by about 30 scholars, experts and government officials from State Administration for Market Regulation, the law firm Freshfields Bruckhaus Deringer, the Law School of New York University, the Law School of Hong Kong University, CASS University, CASS Law Institute and CASS Institute of International Law.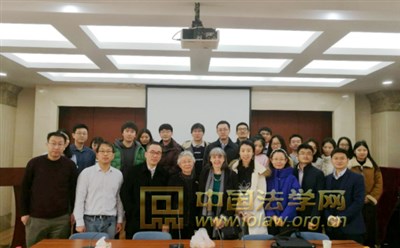 At the seminar, Professor Eleanor Fox from the Law School of New York University and Associate Professor Thomas K. Cheng from Hong Kong University each gave a keynote speech. In her speech, Professor Fox discussed the anti-monopoly issues in the contemporary tech market. She pointed out that the rapid development of Internet technology has posed new challenges to the mechanisms and practice of anti-monopoly law; compared with traditional monopoly enterprises, corporate giants in the field of the Internet have the characteristics of providing low-price services; the US and Germany have adopted different attitudes and regulatory modes in this field. She analyzed the influence of the theory of "legal protection of rights and property" in the field of anti-monopoly law, pointing out that the products and services of Google, Amazon, Facebook and other Internet enterprises are also used by their competitors; these enterprises have the advantage of using platforms to collect data; Germany is considering whether such use of data consists the abuse of dominant market position; some scholars in the US and EU have proposed to regulate these large enterprises by breaking them up. Finally, Professor Fox raised an interesting issue for the audience to reflect on: whether large Internet enterprises have the right to monopolize the data they have collected through their own platform, or they are merely gatekeepers of the data and therefore have the obligation to share the data with other operators?
In his speech, Professor Thomas K. Cheng analyzed the issue of fixed resale price from the perspective of consumer behavior. He analyzed economic causes of the maintenance of fixed resale price, made comparison between mono-brand retailers and multi-brand retailers and between integrated retail services and specific retail service for a product, explored the cross-brand preferred model, cross-retailer preferred model and impulse consumption model and, on the basis of the above analyses, pointed out that the issue of free riding does not arise in the cross-retailer preferred model and has very small space of existence in the impulse consumption model. At the interactive session, the speakers answered questions raised by the audience relating to the protection of privacy in the EU General Data Protection Regulation and in anti-monopoly regulation and exchange opinions with them on issues relating to the concept of gatekeeper, Qualcomm, Uber, Tencent, and big data under the framework of OECD.